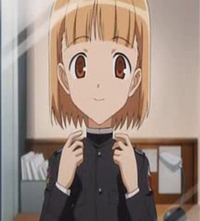 Master Sergeant Otoha Sakurano
is a master with the sword, but is otherwise an unknown in her abilities. She comes from an island where her family runs a dojo. She is naive and usually a cheerful girl, although she gets pretty violent with Ryohei Tachibana whenever he says something perverted. Even so, she appears to have feelings for him. Her Sonic Diver Unit is named Reijin, but she nicknames it "Zero".
Voiced by: Ayako Kawasumi
Otoha Sakurano

Age

16

Height

158.5 cm

Machine
Ad blocker interference detected!
Wikia is a free-to-use site that makes money from advertising. We have a modified experience for viewers using ad blockers

Wikia is not accessible if you've made further modifications. Remove the custom ad blocker rule(s) and the page will load as expected.