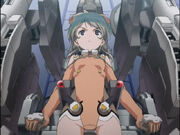 Master Sergeant Karen Sonomiya
is a genius with an IQ of 170 and is an authority on mechanics. She is a university graduated girl at the age of 16 yrs old. She has trouble talking to boys, as she can be quite shy around them. She has a mild crush on Takumi. Karen also enjoys writing letters to her older brother who works just outside the base and loves him very much.
Voiced by: Saori Gotō
Karen Sonomiya

Age

16

Blood Type

AB

Height

158 cm

Machine
Ad blocker interference detected!
Wikia is a free-to-use site that makes money from advertising. We have a modified experience for viewers using ad blockers

Wikia is not accessible if you've made further modifications. Remove the custom ad blocker rule(s) and the page will load as expected.